The rugged Gresso Extreme X3 is what one should take on their next jungle expedition
3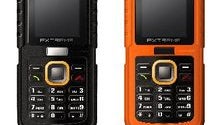 Upon hearing the Gresso brand name, the first images that come to mind are of
luxury handsets
aimed at people who need a shiny accessory to better show off their social status first and a phone second. This time, however, the company has taken a different approach and has come up with the rugged
Gresso Extreme X3
, which drops the gold, diamonds and all that excessive bling and puts on a tough layer of armor instead.
The Gresso Extreme X3 is capable of withstanding falls of up to 23 feet and a pressure of up to 3,300 pounds, according to tests conducted by the company itself. If that is not enough, the phone also meets the IP67 certification, which means that moisture, dirt and dust will have a really hard time making it inside its fully-sealed body. Still not impressed? Well, besides being as tough as a rock, the Gresso Extreme X3 can brag with its unique ability to stay afloat in water for at least 30 minutes – something, which has earned it a spot in the Guinness Book of World Records. Add to that the built-in LED flashlight and laser pointer and we have a phone that every adventurer would love to get their hands on.
The only bad thing about the Gresso Extreme X3 is that its tech specs are pretty unimpressive, yet this is the toll that most rugged phones have to pay in exchange for their toughness. Nevertheless, we are sure that those who choose to drop $270 on one will prioritize its survival abilities above anything else.
source: Gresso