The new Galaxy Note 5 leaks, the upcoming Moto event, and the HTC One M9+ launch: Weekly news round-up
8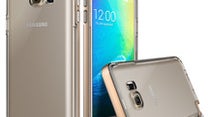 Once again, it is time for our weekly news round-up, where we put the most interesting stories from the past seven days for anyone who needs to catch up. And there's no better way of starting today's post than sharing the latest Samsung Galaxy Note 5 rumors with you; we've got renders, dimensions, even possible announcement and release dates for the highly anticipated handset. It likely won't be quite as thin as the new Galaxy A8, however, which is only 5.9 millimeters thin.
In other news, Motorola announced a media event scheduled for July 28. It will be where the new Moto X and Moto G models will be announced, looking at the leaks and rumors that have surfaced.
And speaking of announcements, HTC confirmed that it will be bringing its One M9+ phablet to parts of Europe. The phone was announced earlier this year and subsequently launched in parts of Asia, but nothing was known about a global release of the device. Until now, that is. The price of the European HTC One M9+ isn't known, but we bet it won't be cheap.
For more of last week's read-worthy stories, flip through the slideshow below!