The iPhone X may turn into a privacy disaster, so Apple changed the Face ID apps policy
30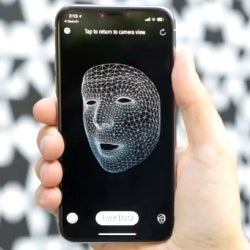 Your facial mapping, achieved with the
TrueDepth
camera kit of the
iPhone X
, is stored securely on the phone, and not being sent to any servers, just like your
Touch ID
fingerprint readings. The issue is, however, that third-party developers would have access to worrying amounts of your face data, complete with mood expressions, and other potentially lethal from a privacy standpoint bits that could be used for marketing purposes, or something more nefarious.
A researcher has already created an app that shows you exactly how much facial data is Apple making available to developers, and it turned out enough to allow them craft a model for a 3D print of your entire face."
There's a wireframe representation of your face and a live read-out of 52 unique micro-movements in your eyelids, mouth and other features. Apps can store that data on their own computers
." Not cool, and, when pressed for answers, Apple's spokesperson Tom Neumayr issued these talking points:
We take privacy and security very seriously. This commitment is reflected in the strong protections we have built around Face ID data—protecting it with the Secure Enclave in
iPhone X
- as well as many other technical safeguards we have built into iOS. [Apple requires] that developers ask a user's permission before accessing the camera, and that apps must explain how and where this data will be used.
Needless to say, it remains to be seen whether Apple has actually opened the floodgates of privacy abuses from marketers, and declared an open season on your facial expressions with the iPhone X. Other manufacturers are seemingly
bent to follow in Apple's footsteps
, so we could soon be facing (pun intended) a veritable privacy crisis as our mugs get collected for all sorts of barely authorized purposes, and exchanged for petty cash as they flow through the Dark Web ether like credit card hacks.
To prevent this potential drama, Apple just shifted the Face ID app developer guidelines, says the source: "
Apple made at least one change - retroactively requiring an app tapping into face data to publish a privacy policy
". Still, in the words of one Forrester research analyst: "
Holy cow, why is this data available to any developer that just agrees to a bunch of contracts?
" Sign of the times.