The first iOS 10.3 beta has been released! Here's everything you need to know
76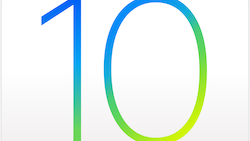 For a lot of people, 2016 was considered to be a rather ho-hum year for Apple. While we did get a smaller version of the iPad Pro, new iPhones, an updated MacBook Pro line, and AirPods, the changes that were made to Apple's existing products were all extremely incremental. That's not to say that the changes were bad, but aside from the Touch Bar and
truly wireless earbuds that turned out to be a lot better than we were initially anticipating
, Apple didn't do a whole lot to excite us last year.
We're still in the very beginning of 2017, and while we there might still be a little more than 11 months to go before the year is out, Apple is already hard at work at updating iOS. Today saw the official release of the first beta for iOS 10.3, and although we were initially expecting the beta to be released back on January 10, the amount of new features that are present in the new update make those extra few days of waiting well worth it. There's a whole lot to whole lot to talk about with this latest update, so without any further ado, here's what's new in the first beta for iOS 10.3.
Features
Find My AirPods
The first big notable feature is called "Find My AirPods." As the name suggests, Find My AirPods allows you to track down your AirPods if you happen to misplace them, and because of the wireless earbuds' extremely small size, this is something of a legitimate concern for a lot of people out there. The new feature has been added to the existing Find My iPhone app, and in order to have your AirPods show up on the map that's displayed while tracking them down, you'll need to ensure that Bluetooth is turned on on your iPhone and that you're within range of them (about 5 to 10 meters).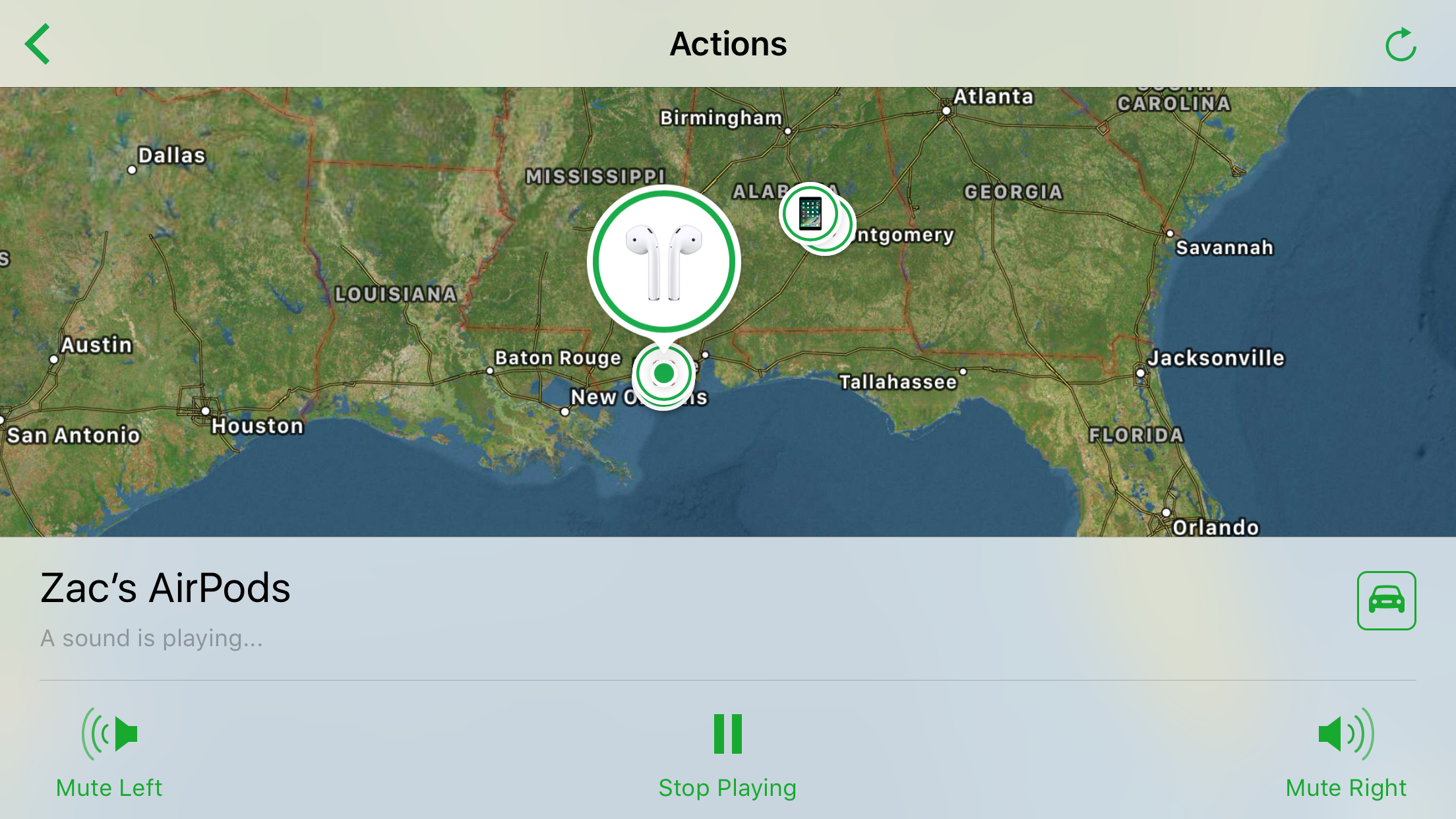 Assuming you're in range of your misplaced AirPods, you can then force a sound to start playing from them so that you can track them down. You can choose to mute audio playback in each individual unit in case you only lost one of your AirPods, and the service as a whole seems very straightforward. It is very justifiable to be concerned about losing track of Apple's AirPods, so having something like this to at least create for a sense of peace of mind is a nice addition for sure.
App developers will be able to respond to customer reviews
Apple's App Store is still the supreme marketplace for mobile apps and games, but while the content is certainly there, there's still quite a bit lacking when it comes to features that other services such as the Google Play Store have had for quite some time. As it currently stands, app developers have very minimal options for communicating with customers that are using their apps, but this is thankfully going to be changing with the release of iOS 10.3. Although it currently isn't live, Apple has said that developers will be able to directly respond to App Store reviews that customers leave around the time when iOS 10.3 is officially released to the public. Developer replies will be viewable by everyone, and this feature will also carry over to the App Store that's present on macOS.
App developers will soon be able to directly reply to customer reviews in the App Store
New widget for Podcasts app
Widgets are still a relatively new feature in iOS, but as time goes on, more and more apps are slowly adopting the new feature to bring quick and relevant information to your lock and home screen. In the 10.3 beta, Apple's Podcasts app has a brand new widget that can be added that is very similar in design to the one that currently exists for the Music app. There are still plenty of other apps that we'd like to see get support for widgets in the near future, but this is certainly a nice addition for users who make use of Apple's built-in podcast solution.
No Theater Mode, at least not yet
One of the most anticipated features for iOS 10.3 is Theater Mode - essentially a system setting that will allow you to apply a dark theme to the iPhone's entire UI to make using your phone easier on your eyes while in a dark environment. We've heard plenty of rumors and talk about how this feature will be one of the highlights for iOS 10.3, and although there's no sign of Theater Mode in the first beta for the latest iOS update, all hope is not lost. Official documentation from Apple indicates that watchOS will be getting this feature, and with this being the case, our guess is that this will also activate it on the iPhone the Apple Watch is connected to. Details on the rumored Theater Mode are still a bit murky, but hopefully we'll learn more when he next beta of 10.3 is released.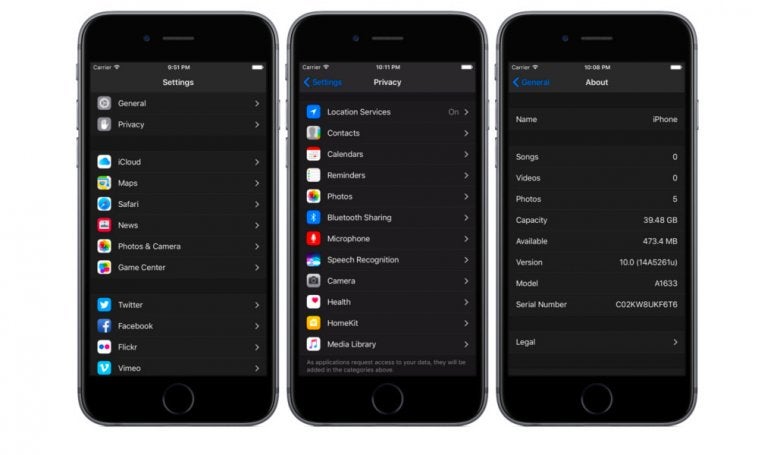 What Theater Mode might look like in iOS 10.3
Miscellaneous additions
Along with these larger features, iOS 10.3 is littered with a heap of smaller updates as well. The latest version of iOS now uses the Apple File System (APFS), the Settings now showcases a large option for user security options to play around with, CarPlay allows users to easily access the last three apps that were previously used without having to go back to the home screen, and more. A lot of these smaller changes are things that likely won't have that big of an impact on most users, but they're certainly still worth taking note of.
Official Release
Apple hasn't announced a full public release of iOS 10.3 just yet, but looking back at 9.3 from last year, we can make a fairly educated guess as to when this will take place. Apple initially released the first beta of iOS 9.3 on January 11 and then pushed it out to everyone on March 21 alongside the 9.7-inch iPad Pro. We're expecting Apple to introduce three new iPad models later this year in the second quarter, so a timed full release of iOS 10.3 with those would line up quite nicely. However, until that day comes, feel free to comment your thoughts of iOS 10.3 down below based off of what we've seen so far.