The behemoth Oppo N1 gets a size-comparison with the Samsung Galaxy Note 3
23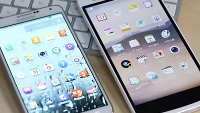 The OppoN1 has a lot of things going for it: a beautiful, well-builtexterior, a snappy processor and a rotating camera the like of whichwe haven't seen in a long while. But it's downright giant, even forit's 5.9-inch 1080p display.
In fact, it's so big that despiteus having the actual measurements of the phone (170.7x82.6x9mm) fromday one, we still didn't quite imagine exactly how the phone looks inreal life. Thankfully, the ever-resourceful folks from ChineseMyDrivers have provided a visual comparison with the Samsung GalaxyNote 3 (151.2x79.2x8.3mm), a device that we, naturally, consider tobe in the same league. In hindsight, we couldn't be more wrong –the Oppo N1 is gigantic, and is definitely edging on the size ofdevices like the Samsung Galaxy Mega 6.3 and the Sony Xperia Z Ultra, more so than anything else.
What's even worse, the Oppo N1, at213 grams, is a fair bit heavier than most any other device, theGalaxy Note 3 included (168g). But as the saying goes, a singlepicture is worth a thousand word, so without any further ado wepresent you the Galaxy Note 3-dwarfing Oppo N1.