The SpareOne Cellphone uses one AA battery
6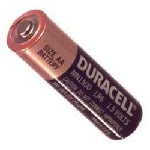 AA battery
, which provides about 10 hours of talk time before it needs to be changed. Christian Scheder, the president of SpareOne, says that his device isn't designed to replace your
Apple iPhone 5
,
Samsung Galaxy S III
or
Nokia Lumia 920
.Designed to be use as an emergency phone or a secondary handset for when the battery on your high-end smartphone dies, you just pop in your SIM card and you're ready to go. If you need to make an emergency call, no SIM card is required and a large button on the phone is there just to connect you quickly to 911.
The SpareOne comes with a waterproof bag. Scheder notes that a dry, unused battery can last for years so keeping your phone dry can keep you from having to change your battery for a long, long time, allowing your unit to be ready to handle any emergency that comes up. Besides the extra big emergency call button, a flashlight on the top of the phone runs for 24 hours. The company also makes an app that lets your smartphone track other people's locations during emergencies. The SpareOne costs
$99.99
and is being displayed at CES 2013.
source:
ABCNews