The Quad HD screen of Sony Xperia Z4v doesn't seem to affect the phone's battery life
32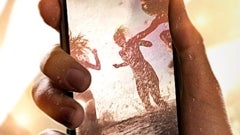 Yesterday,
Sony officially unveiled
its very first smartphone with a Quad HD (1440 x 2560 pixels) display: the
Xperia Z4v
. Apart from having such a high resolution screen and a redesigned body, the Z4v isn't too different from the previously announced
Xperia Z3+ / Z4
, offering similar features - including Qualcomm's octa-core Snapdragon 810 processor, 3 GB of RAM, a 20.7 MP rear camera, and a 5 MP front-facing camera.
The Z4v also has a battery that's comparable to that of the Z3+, being just 70 mAh larger: 3000 mAh vs. 2930 mAh. As you may know, the Z3+ (just like the
Z3
before it) sports a 1080p screen and offers excellent battery life: up to two days of usage time. But what about the Z4v? Is the Quad HD screen negatively affecting battery life? Well, it looks like it doesn't.
According to Sony, the 3000 mAh battery of the Xperia Z4v can, in some cases, last longer than the battery of the Z3+. For example, the Z4v can provide a talk time of up to 20 hours over 3G, while the Z3+'s 3G talk time is rated at up to 17 hours. The Z4v should also last longer when you're listening to music (up to 95 hours vs. up to 91 hours). In other areas (like standby time on LTE, or video playback time), the Z3+ is only marginally better. All in all, it looks like the Z4v's battery performance is comparable to that of the Z3+, despite the fact that the former device has a screen with a significantly higher pixel resolution. This is great news for Sony fans who may be waiting for a global flagship handset with a Quad HD screen.
As you may know, the Xperia Z4v will be available only from Verizon Wireless. It should go on sale later this summer for a price that hasn't been announced.
sources:
Xperia Z4v white paper
,
Xperia Z3+ white paper
(PDF files)