The HTC Vive Tracker is not a fitness tracker, but it lets you shoot dinosaurs in the face!
10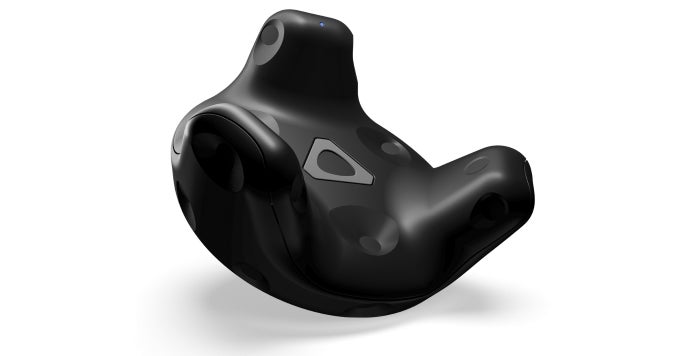 This is the Vive Tracker. It won't look as glossy in real life.
A few weeks ago, we heard that HTC is working on a Vive-branded
tracker
. Of course, no one ever said it was a
fitness tracker
, but such a possibility did come close to mind. So we are surprised by the turnout, but very pleased nevertheless! You'll see why below.
Anyway, the $99 Vive Tracker is now available for developer purchase, and it's the Vive headset's nimble little friend. It looks like a charging cradle, but its purpose is being strapped onto an object, such as a replica of a gun, and tracking its motions to turn it into a VR controller.
HTC is making it possible to murder prehistoric reptiles with UZIs!
Multiple Vive Trackers can be combined for complex tasks like full body tracking. Thus, VR developers now have the means of easily implementing natural movement tracking into their experiences. This can go to interesting places!
The tech has already contributed to a bunch of rad demos, such as
this one
, in which you hit dinosaurs in their ugly faces with a baseball bat. Or
this one
, which is about shooting lifelike virtual guns. We'd rather have that cool stuff than another overpriced wristband in a bunch of silly colors, thanks HTC!
The Vive Tracker will be sold to consumers and businesses in the second half of 2017. Get HR to install a bunch of virtual rifles at the corporate play room and you're golden!
ALSO READ
source:
HTC