The Galaxy S7 fetches inferior battery life than the S6 despite much larger cell
56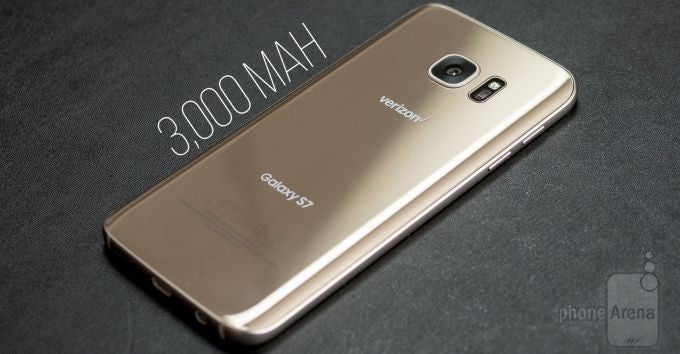 With the 2016 generation of its Galaxy A line, Samsung notched something of a record, with both the A5 and A7 managing nearly 10 hours before dying during our strenuous, custom battery life test. Given how the Galaxy S7 features a significantly improved cell capacity of 3,000 mAh (compared to 2,550 for the S6), we were hoping that Samsung has a winner on its hands. Alas, that doesn't seem to be the case.
The Galaxy S7 clocked 6 hours and 37 minutes, a disappointment compared to its predecessor
We've had the Galaxy S7 in our possession for a week now, and as you can imagine we've been hard at work on the review. A major part of it, battery life is something we all care very much about, and that's where our custom battery test comes in. After forcing the S7 through it, we are unfortunately left with the confusing achievement of 6 hours and 37 minutes—a disappointment given the 7 hours and 14 minutes its forerunner clocked. Considering the larger cell of the Galaxy S7, it's a bit weird to see such a notable delta.
A few things are worth pointing out when viewing the results. First off, the Galaxy S7 unit we've got sitting on our desk is the Verizon-branded, Qualcomm Snapdragon 820 variant, and not the Exynos flavor. Second, to ensure uniformity across tested devices, we always set brightness to 200 nits and loop a pre-made script that is designed to replicate the power consumption of typical real-life usage.
As for when the Galaxy S7 is full out, we clocked a very decent result: 88 minutes to get topped off. Going back to that larger cell, it's only logical that the S7 will need a bit longer than its predecessor to go from zero and back to full again. It's still a leading score.
To be fair, we were actually looking forward to testing the Galaxy S7 for resilience. It seemed pretty much a given that it would best its predecessor, and we even dared hope for a significant improvement. As it is, the Galaxy S7—at least the Snapdragon 820 variant—is starting to lag behind other recently released devices, such as the iPhone 6s and even the Xperia Z5. See how it stacks up for yourself: