The ASUS TOUGH is a water-proof Android tablet
6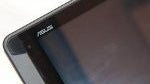 ASUS
just pulled the covers off of the TOUGH which is an
Android 3.2 Honeycomb
tablet with a 7-inch display that also just happens to be water-proof as well as dust-proof.
The ASUS TOUGH is said to be heading for the
KDDI
network in Japan. Judging by the photos it looks to be a pretty beefy tablet (it broke the scale at 620 grams), but that is to be expected when it is made to handle all that Mother Nature tries to throw at it.
The specifications of this device go right along with other Android tablets that ASUS has released in the past. It is powered by a
dual-core 1GHz Tegra 2 processor
and that
7-inch display
features a resolution of 1280x800. The TOUGH will ship with 16GB of built-in internal memory. Around the back of the hefty tablet is a
5 megapixel camera
but there doesn't appear to be any camera on the front.
The TOUGH also has all of the standard radios on-board such as EVDO, Bluetooth, WiFi and GPS. The tablet also has support for WiMax. Check out the photos and tell us what you think of the ASUS TOUGH.
source:
The Android Authority