Texting and driving in New York will now cost you 5 points, up from 3
10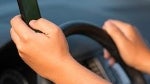 New York Governor Andrew Cuomo was happy to announce on Friday that those caught driving and texting would receive a penalty of
five points
on their driving record, up from the current three points. That would make LOLing with your BFF potentially more costly to your bank account than getting caught driving 20 miles over the posted speed limit. Accumulate 11 points or more in 18 months and your license could be suspended for 31 days.
At a press conference in the Big Apple, Cuomo said that he is proposing a law that would bring harsher penalties to new probationary and junior drivers who are caught texting while behind the wheel. Under this proposal, those found to have been guilty of texting and driving would have their license
suspended for 60 days
after their first conviction.
Cuomo is serious about this, saying that the penalties would apply to any cellphone activity during driving. "
We want the message to be very clear to young drivers: Don't do it and don't think about doing it
," Cuomo said. "
The inexperience plus the distraction can be a deadly combination. And that's what we want to stop
." The state's Chief Executive has three teenage daughters so he says he understands how teens
love their phones
, but also might over estimate their driving skills.
At the press event was Ben Lieberman whose 19 year old son was killed in a car being driven by a young driver distracted by the use of his cellphone. Lieberman said that drivers "
need to worry about the lives that are in their hands and not the cellphone in their hands
."
Governor Cuomo says he spends a lot of time in his car and sees how much of a problem texting while driving is in New York. Between 2005 and 2011, the number of cellphone related crashes in the state of New York rose by 143%. Police will begin to more sharply enforce the law against driving and texting starting on Saturday.
source: NYPost