Tether now available for all Android devices
8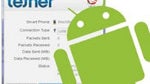 Life is good when you are connected to everything you want to be connected to and although technology can't quite buy you this, it certainly facilitates the process. The very thought that you can access the internet when you are in the middle of nowhere is refreshing in itself and this is just a tribute to the advances of the modern technology.
And this is where tethering comes in. This technology allows you to use your phone/smartphone as a modem for your PC or laptop when you are in a place without internet connection. Now the Tether applicaton is available for Android and it gives you the chance to use this service with all Android phones, regardless of the version of their OS. It's true that nowadays a few handsets start to tether at launch, but for the rest, Tether may be your cure. What's even better is that it doesn't charge your bill with any "tethering plans".
Its promotional price, which will be valid until November 19, is $24.99, while after that the app will cost you $29.99. You can order Tether for Android
here
.
source:
AndroidCentral