Tablet and laptop ban on US-bound flights all but lifted after airports comply
4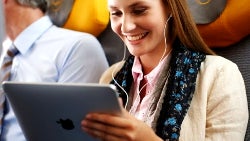 Well, that didn't take long. After a seemingly draconian ban on devices larger than a smartphone was introduced in March for airlines flying from some Middle Eastern, North African and Turkish airports to the US, now a fourth airline has been exempt from the requirement, effectively nixing the ban in all but a name.
It seems that the measure has been undertaken in order to urge airports to install better screening equipment, as Homeland Security had received credible intelligence that explosives hidden in laptop and tablet batteries are prepped for usage in flights going to the US.
After Emirates and Turkish Airlines, Qatar Airways was the latest to see its electronics ban lifted today, as the Hamad International Airport in Doha complied with all the measures and the equipment requested by the US authorities, so the tablet and laptop ban proved to be a useful tool for making airports safer in a jiffy.