T-Mobile's 3G webConnect mobile data card due out March 25th?
2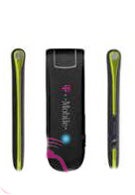 T-Mobile is expected to release its 3G webConnect USB mobile data card on March 25th according to information received by web site CellPhone signal. The device, also called a Laptop Stick by the carrier, will connect a laptop to the internet through a variety of networks including 3G,
EDGE
or T-Mobile's Wi-Fi Hot Spot. The T-Mobile Connection Manager already on the device will automatically connect a computer to the best available network. The Laptop Stick can also store as much as 8GB of memory with the insertion of an optional microSD card.
The webConnect data plan will cost $59.99 a month for 5GB of usage with unlimited Hot Spot access. Once over the 5GB limit, T-Mobile will charge you 20 cents per MB with no voice service allowed. While 5GB might seem small, using them you could visit 35,000 web pages or send 1,700,000 1 page emails with no attachments. 5GB would also allow you to download 1,300 songs that are 3 minutes in length. No matter what combination of browsing, downloading or emailing you do, it seems like the plan gives you enough data to cover 1 months' usage.
source:
CellPhone Signal