T-Mobile to offer wireless tethering for $14.99 extra starting November 3rd
4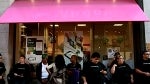 Starting November 3rd, T-Mobile could have its own tethering solution, and this one will cost you $14.99 monthly. The service can only be added on top of an existing unlimited data plan, starting at $19.95. The plan extension is called Tethering and Wi-Fi Sharing Add-On Feature, and buys you a piece of mind that you are legally sharing your smartphone's internet connection.
Of course, you can always root your Android device, and use it as a Wi-Fi hotspot, but it is another feeling to pay for T-Mobile's consent on the matter. Customers on contract, as well as Flex Pay subscribers will both have the privilege to pay for tethering, provided they also have the above mentioned unlimited data plan. Hey, we know $14.99 a month is a lot for such a service, but we also feel the carrier's pain. Big Magenta is trying to prevent you from using the smartphone data connection as your only source for streaming movies around the house, bringing down the whole network with you.
Sarcasm aside, you are still only allowed 5GB at full speed, after which your access speeds will be throttled down to lazy web browsing. Another unpleasant twist is that those who have already configured their T-Mobile devices for tethering in one way or another, will receive a notification to subscribe for the new service, if they want to continue their broadcasting ways.
What do you think, is the price fair?
via
BGR