T-Mobile tells FCC that if Sprint deal closes, prices won't rise for at least three years
6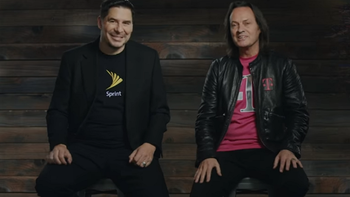 T-Mobile CEO John Legere told Sprint employees back in October that this merger is unique,
and will result in new jobs being added as soon as the two wireless providers are merged
. Today, the unconventional executive
told the FCC in a letter
(via
TmoNews
) that prices will not go up if T-Mobile and Sprint get the thumbs up to combine. Legere says that the merged carrier will offer the same rates as those available to T-Mobile and Sprint customers right now, or they will be lower than today's prices. He promises that the "New T-Mobile" won't have higher prices than today for at least three years.
"We are the Un-carrier. If we broke faith by raising rates and cutting back benefits, we would lose our loyal customers and destroy the future of our brand. I want to assure you that we would never do this. My management team and I can make this personal commitment because we believe in delivering on our promises, and we know if we do not, we will lose credibility and the trust of our customers. Our business plan and our future success are centered around building a world class 5G network for everyone and delivering more to consumers for less. To remove any remaining doubt or concerns about New T-Mobile's prices while we are combining our networks over the next three years,

T-Mobile today is submitting to the Commission a commitment that I stand behind – a commitment that New T-Mobile will make available the same or better rate plans for our services as those offered today by T-Mobile or Sprint. We believe this merger makes consumers better off, and we're willing to put our money where our mouth is. Period."-John Legere, CEO, T-Mobile
Legere did tell the FCC that the combined company might have to raise the taxes, fees and surcharges on its wireless plans. It also might have to raise the prices of third party services whose costs are not controlled by T-Mobile. Both T-Mobile and Sprint have told regulators that the deal needs to be approved in order for the U.S. to be a leader in 5G connectivity. Both carriers expect the deal to close sometime in the first half of this year.