T-Mobile officially launches 14 new iPhone-friendly HSPA+ markets, including New York and Boston
7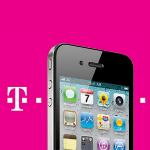 T-Mobile has been working hard to launch more and more markets with the 1900Mhz spectrum that it picked up after AT&T failed to purchase the company. The 1900Mhz spectrum is key because it allows most GSM unlocked smartphones to access T-Mobile's HSPA+ network and get 4G speeds. The number one device that benefits from this is the iPhone, but it would also help if you have an unlocked Nokia Lumia 920, or other unlocked device. T-Mobile announced today that 14 new markets have gotten the upgrade, including the official announcements for New York and Boston.
In addition to both New York and Boston (and the surrounding metro areas of each city), T-Mobile has announced the expansion for: Newark, N.J. (and surrounding areas); Springfield, MA; Providence, RI (and surrounding areas); Philadelphia, PA; Detroit, MI (and surrounding areas); Dallas, TX (and surrounding areas); Fort Worth, TX (and surrounding areas); Austin, TX; San Antonio, TX; and Tampa, FL (and surrounding areas).
Of course, many of these areas already had the service turned on, but this marks the official announcement. With these new markets, T-Mobile has expanded from its last announcement that the enhanced HSPA+ network covers
over 100 million people
. This newest announcement puts the total markets to somewhere around 37, and could push the total number of people covered to around 150 million or more.