T-Mobile Prism II from Huawei may launch tomorrow for $116 total
4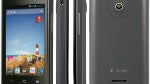 If you're looking for a very inexpensive device, T-Mobile may have exactly what you're looking for. Rumor has it that the T-Mobile Prism II from Huawei is going to launch on the carrier tomorrow, and the best part about it is that the device can be yours for just $116. Not $116 up front; $116 total.
Of course, at that price, you're getting what you pay for. The device is definitely in the budget category, and comes with a 3.5" 480 x 320 display, a 1GHz CPU, 512MB of RAM, a 3.2-megapixel camera, 4GB of expandable storage, a 1,750mAh battery, and Android 4.1 Jelly Bean.
According to the T-Mobile website, the device is "coming soon", but a carrier representative has apparently told Engadget that the device is going to be released tomorrow.