Survey of BlackBerry users indicates 70% will upgrade to BlackBerry 10
49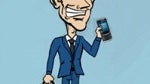 The Jared Company, app developers for BlackBerry, Android and iOS conducted a survey of nearly 6,000 customers and not surprisingly found a fairly high degree of loyalty. About 70% of those that responded plan to buy a BlackBerry 10 smartphone when they are ready to upgrade.

The company contacted customers who had opted-in for their mailing list. Besides the 70% that said they would upgrade, 54% of those that said they would upgrade said they were doing so because they preferred BlackBerry over other platforms. 19.5% cited appealing features as why they intended to upgrade.
Out of al those who responded, 40% said they had been BlackBerry users for three-to-five years, and 27.4% for longer than five years. The next figure is sure not going to shock anyone, 68% said they preferred using a physical keyboard versus touchscreen, and 88% believe their apps will be available on BlackBerry 10. Those last two figures make sense, the BlackBerry physical QWERTY keyboard, especially the one found on the Bold 9000 series, is the measure by which all others are judged. Also, with the amount of work RIM has been putting into supporting app development, cash guarantees and developer hardware to thousands of developers, it stands to reason that a great many apps in the BlackBerry OS 6/7 environment will find their way to BlackBerry 10.
The Jared Company also asked about the features most valued by its customers. 25% cited email and SMS, 23% picked BlackBerry Messenger and 20% liked the ease of use. The Jared Company makes a wide series of apps and games for BlackBerry, including ASAP-BlackBerry, Who Is It (custom LED color alerts), and others.
While the response is a relatively small sample against the broad BlackBerry landscape, the brand has been able to hold on to its loyalists. How about you? Will you make the move to BlackBerry 10, or are you thinking of switching gears?
sources: The Jared Company via BlackBerry Cool