Study shows that in-store Wi-Fi builds customer loyalty
7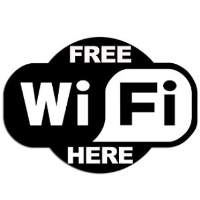 If you manage a retail store and want to be a hero to your boss, suggest that he add in-store Wi-Fi to the establishment. Sure, your boss might yell at you at first, and could possibly toss a few heavy objects your way. But once you pass along one important stat, you will be golden. Earthlink (yes, they are still around) partnered with consultants IHL group and Wi-Fi provider AirTight Networks, to provide a study showing that retailers can earn customer loyalty by providing in-store Wi-Fi to customers.
Retailers offering free Wi-Fi to customers inside their stores reported a 28% increase in customer loyalty. It's not terribly hard to find a store that provides the service. Of those large to medium-sized retailers responding to the survey, 82% of them already have deployed in-house Wi-Fi. But only 57% of them offer the network to both customers and employees. Either the employees are missing out and have to eat into their data plans while at work, or the customer is consuming data. And if it is the latter, the next time he or she goes shopping, it might be at a different store that does offers free Wi-Fi connectivity.
Many retailers who already offer Wi-Fi to their customers, are planning to make the experience even better for shoppers this year. 34% of Wi-Fi equipped retailers plan on updating the technology in 2015. More coverage inside the retail space, larger capacity and faster speeds will be enjoyed by customers of those stores who are improving their Wi-Fi network.
It all makes sense. With one survey reporting that
80% of adults globally own a smartphone
, many of them are knowledgeable enough to seek a Wi-Fi signal when they are out in order to save their data. Why wouldn't these smartphone owners seek a store that offers them a free Wi-Fi connection? For the stores, loyal customers means repeat business and referrals. And the additional revenue should more than make up for the cost of adding the service.
source:
PRN