Steve Jobs tops CNBC's list of the most influential people of the last quarter century
44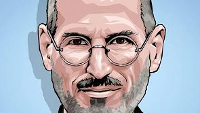 Stock market cable channel CNBC is celebrating its 25th anniversary, so it decided to create a list of what it calls the "First 25: Rebels, Icons & Leaders." The list includes people like Warren Buffett and Oprah Winfrey to name a few. Number one on the list? The late Steve Jobs. The Apple co-founder's career was the focus of a video played on CNBC, which recalled the early years with 'The Woz', the introduction of the Mac, and Jobs' decision to handpick John Sculley as his successor.
That backfired when Jobs lost out to a boardroom coup and was axed from his own company. But that might have been the best thing that ever happened to him, Apple, and consumers. He started NeXT, purchased Pixar and made a success of them both. The latter was bought by Disney, which made him Disney's largest stockholder. With Apple close to bankruptcy, Jobs was brought in to advise on the Mac OS X and eventually was named CEO.
The returning hero rolled out a number of successful new products, focusing on design and function. There was the colorful iMac, the Apple iPod, and the Apple iPhone. Three years after he launched the game-changing handset, Jobs created a whole new category when he launched the Apple iPad. Shortly more than a year later, Jobs was dead, defeated by pancreatic cancer. You can check out the video by clicking on it, below.
Microsoft Chairman Bill Gates is second on the list. The Google trio of Sergey Brin, Larry Page and Eric Schmidt is fourth with Amazon Chairman and CEO Jeff Bezos fifth. Eighth is Mark Zuckerberg with HTC co-founder Cher Wang at number 22.
source:
CNBC