Steve Jobs lifelike action figure is canceled after "immense pressure" from Apple and Jobs family
20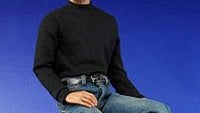 Do you remember that article we posted earlier in the month about the
lifelike 12" action figure of the late Steve Jobs
? As you'd imagine, there must've been a tremendous demand for the one-of-a-kind action figure that went on sale thanks to Hong Kong based company In Icons.
However, if you've managed to place an order for it, bad news is apparently headed your way – well, it'll depend on how you view it. Specifically, it seems that the toy has been canned completely due to the "
immense pressure
" from both the Jobs family and Apple's gun slinging lawyers. On one hand, the move by In Icons to manufacture the action figure was meant to be more of a tribute to the late Apple CEO than anything else, and more importantly, they didn't think of it to be infringing on any copyright or trademark rights.
Of course, pressure from Apple's never relenting
legal team
can cause any human being or company to change their actions – and that's clearly what we're seeing here. Meanwhile, the other side of it comes from the Jobs family because the company feels that it's the "
heartfelt sensitivity to the feelings of the Jobs family
" that helped them to make the decision on canceling the product line entirely.
Aside from making amends to the family, In Icons also expressed its apologies to anyone who placed orders for the toy – and of course, they'll be issuing refunds. There's no kidding that some people want to remember the legendary Steve Jobs in some way, but for now, the toy simply isn't going to be it.
via
AppleInsider