Bring your iPhone fandom to new levels of creepy with the new Steve Jobs action figure
15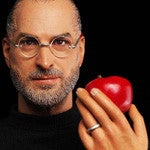 Some of you may remember a little over a year ago when
M.I.C. Gadget released a fun, oversized head Steve Jobs action figure complete with iPhone in hand and dry erase quotation bubbles
. Now that Apple's CEO has passed, In Icons has created a creepy, realistic, 1:6 scale replica of the man himself.
The 12" action figure is completely poseable and comes with several accessories to help you recreate your favorite Apple Keynote memories. For the price of $99.99 plus $10 shipping you get:
One realistic head sculpt & Two pairs of glasses
One highly articulated body & Three pairs of hands
One black turtleneck & One pair of blue jeans
One black leather belt & One chair (wood + metal)
One pair of black socks & sneaker
Two apples (One with a bite.)
One piece of "ONE MORE THING" hard backdrop
Sadly, you're on your own for the mini iPhone and iPad and, as one Gizmodo reader pointed out, "team of lawyer figures." Speaking of which, if you're interested in one of these, you may want to make haste because it is probably only a matter of time until these treasures are gone forever.
source:
In Icons
via
Gizmodo