Sprint could have LTE network up and running by next year
12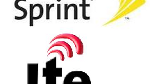 By the middle of this year, Sprint will make a decision on whether or not it will replace WiMAX with LTE for its 4G pipelines. If the pin-dropping network decides to go with LTE, it can have both an LTE network and devices that work on the 4G pipelines by next year. If Sprint chooses to go with LTE, it can have nationwide coverage by the end of 2013.
Why is the carrier waiting until the middle of the year to make a decision? Steve Elfman, Sprint's president of network operations and wholesale told the Morgan Stanley Technology, Media and Telecom conference that the company is still working out its 4G strategy with its partner, Clearwire. The latter owns a mobile WiMAX network and Sprint just wants to make sure that both parties are on the same page.
During the conference, Sprint also reiterated its "Network Vision" plan that will cost the carrier $4 to $5 billion to modernize its pipeline over the next 3 to 5 years. Elfman passed along some potentially good news for Sprint customers in the big cities. The operator will try to enhance its 800MHz CDMA coverage to improve in-building coverage. Later this year, Sprint also will have a new PTT system from Qualcomm that will use new Push-to-talk devices that Sprint will launch in Q3.
source:
FierceWireless