Special promotions help to shave $40 off the cost of an Amazon Kindle Fire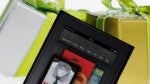 At $199, the
Amazon Kindle Fire
is still easily regarded as a steal when it comes to pricing for an Android based tablet, even more when it integrates a lot of Amazon's cloud services. Knowing that it's generally hard to find its pricing any lower than where it has been, it naturally raises our eyes whenever special promotions and deals manage to bring its price lower.
Well, that's certainly what we're seeing as two different promotions enable the tablet's price to be lowered all the way down to $159 – in the end, that is. First up, there is a
MasterCard
"
Here's to Mom
" promotion that essentially provides a
$20 prepaid MasterCard
when you spend $200 or more by Christmas – so that's the first $20 savings.
Next, you can shed another $20 by using the promotion code
3TLRXE3N
on your Amazon.com purchase when you use a MasterCard as your choice of payment at checkout. Actually, the $20 savings is broken up into a $10 credit off any $100 or more purchase, and another $10 Amazon.com gift card via email.
Although it's not a direct $40 off the cost of the Amazon Kindle Fire when you go any buy one, it's nonetheless a $40 savings in the end. Of course, you can always try and get cold hard cash for all the gift cards if you can somehow entice a friend or family member to buy them off you, but then again, that's another level of work on your part.
source:
MasterCard
via:
Phonenews