Sony Ericsson Xperia arc used to blossom flowers, Sony creates "WhiteMagic" display with twice the brightness
4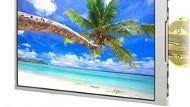 Sony has created a 3" RGBW display, called "WhiteMagic", whose regular power-saving mode has the brightness at 470 nits, or about the average iPhone 4 one, plus a
1000 nits outdoor mode
.
Sony has achieved this by adding a white pixel to the regular RGB arrangement, and optimizing the DSP algorithms for better image. For comparison's sake, the brightest screen on a current smartphone we've heard of is the 700 nits one on the
LG Optimus Black
.
Sony claims that in regular mode the phone draws half the power of conventional RGB LCD displays. The commercialized prototype is just 3" with VGA resolution for now, so smartphones with this one probably won't be at the high end of Sony Ericsson portfolio, but we hope the Japanese are working on the size and resolution.
Table of Specifications


Screen size
3.0 inches
LCD mode
Vistarich™*2, transmissive
Number of display dots
1.23M-dot (640 x RGBW x 480)
Color reproducibility
NTSC ratio 60%
Contrast ratio
1000 : 1
Viewing angle
Vertical/horizontal160 degrees
Mode


Surface brightness
Power consumption
Low power mode'


470 cd/m²
225mW
(Backlight 125mW)
Outdoors mode


1000 cd/m²
400mW
(Backlight 300mW)
In the meantime, as if to remind the world again where it stands with its LCD screens, Sony outed a funny promo for the
Sony Ericsson Xperia arc
, where the handset is used to make flowers bloom. A few treehugging types placed eight of the phones on a contraption, and cranked the 4.2" Mobile BRAVIA Engine displays over some unsuspecting plants, trying to make them blossom, which they did, and the whole experiment can be seen in the promo video below.
via
Engadget
&
TechCrunch