Sonim XP3300 Force is the world's toughest phone, gets a spot in the Guinness World Records
5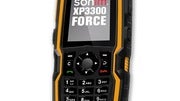 Tough phones are built to withstand a lot more torture than an ordinary handset would ever be subjected to, but the
Sonim XP3300 Force
takes ruggedness to a whole new level. The handset has just earned its spot in the Guinness World Records and has been officially pronounced as
the world's toughest phone
.
How did it earn its title? Well,
by surviving an 84 feet (25 meters) drop onto a layer of concrete
, of course. Not only that it remained in one piece, but was still fully operational, as the Guinness World Records officials confirmed after the test. In comparison, most rugged phones are subjected to drops no higher than three feet when tested for endurance.
However, extreme drops are not the only thing that the Sonim XP3300 Force can survive after. The phone has been sandblasted, dunked in antifreeze, casted in ice and concrete, dragged after a power boat and still lives to tell about it. Even
Tom and his blender
had a hard time battling the handset.
Here is a video of the XP3300 Force taking the 84 feet leap and landing onto a bed of concrete. Needless to say, do not try to recreate any of what you are about to see at home.