Some additional views of Facebook Home
11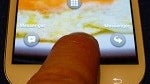 Facebook Home accomplishes a lot for basically being a application. The way the application functions and redirects the user experience is a departure from just about every other platform out there.
Taking the HTC First and its middle-of-the-road specifications aside, there are some neat features embedded with Facebook Home, and not just because the UI is smooth and new. The approach to place the "app experience" underneath the personal experience may gather momentum.
The interface ran fluidly, with no lag or stuttering at all. One of the neat features we have to admit are the "Chat Head" notifications when a message comes in. You can move them around or discard the notification if you want (without deleting the message of course). During the presentation, it was stated that the effort was to ensure that the basis were done right. Based on our initial observations, Facebook was successful in that endeavor.
As Facebook has announced that there will be updates to the Home every month, more functions are going to come as well. In fact, we were told that just about everyone at Facebook was running the next build on their devices already. Follow along our summary through the basics of Facebook Home.