Smartphones could soon employ user's ears to verify identity with 99% accuracy
7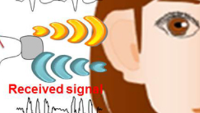 There are a number of different methods used to verify one's identity using a smartphone. Right now, the one most commonly employed is the fingerprint scanner. Fewer handsets rely on a laser reading of the user's iris. Perhaps the fastest and most accurate method has just been discovered. Today, NEC announced technology that takes advantage of the unique shape of everyone's ears to verify one's identity.
As it turns out, the way sound resonates in our ear canal is a highly personal process. So NEC has devised earbuds that include a microphone that measures how a transmitted sound travels through the inner ear, identifying an individual. What is exciting about this technology is that the whole verification process takes under one second, and is 99% accurate.
"Since the new technology does not require particular actions such as scanning a part of the body over an authentication device, it enables a natural way of conducting continuous authentication, even during movement and while performing work, simply by wearing an earphone with a built-in microphone to listen to the sounds within ears."-Shigeki Yamagata, general manager, Information and Media Processing Laboratories, NEC Corporation
NEC hopes to have this technology in commercial use by 2018. The company sees it being applied during confidential calls when a person's identity needs to be verified. It also sees a use for this in navigation. NEC doesn't mention using this technology to replace a fingerprint scanner on a smartphone, but that seems like a logical possibility.
source:
NEC
via
Geek.com