Smartphone Kickstand attaches to any device for portrait or landscape viewing
14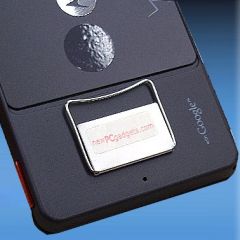 There's no doubt that every smartphone OEM at least considers placing a kickstand on their devices, particularly when the device features a large screen and/or high resolution. But despite the increasing use of smartphones for video consumption, most devices still require an aftermarket or home-made solution.
The Smartphone Kickstand is an inexpensive,
easily removable
solution that costs only US$4.95 before shipping and handling. At
1.59mm-thick
, the kickstand is relatively unobtrusive. It will stand your device up in both
portrait and landscape
modes. And for smartphones like the
iPhone 4
, which include videoconferencing but no stand, the Smartphone Kickstand might at least prevent your FaceTime contacts from getting motion sickness.
While we sometimes hate to nitpick, we have to point out a few shortcomings. For one thing, it lacks the aesthetic appeal of an OEM kickstand. We also imagine that, even though it's thin, it will inevitably catch on pants pockets. But, to its credit, the Smartphone Kickstand uses 3M double-sided adhesive, so it can be easily removed without damaging your device. And for $4.95, it might be a worthy investment for the video-hungry smartphone user.
source:
NewPCGadgets