Select broken phones can get you a $25 trade-in value through RadioShack in May
1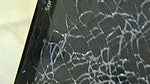 Sure you're probably pissed about breaking your smartphone by accident, but instead of moping around and letting it collect dust, you can still get something out of its demise.
RadioShack
is here to help in the month of May because right now, they're offering customers a
guaranteed $25 trade-in value
for select smartphones that are broken. Meaning, if your handset isn't working normally due to things like a cracked screen, liquid damage, or internal defect, you can head to your local RadioShack store to get your guaranteed $25 trade-in value.
However, it's worth mentioning that they
won't
accept devices that are damaged beyond the point of recognition. Therefore, for those that are completely smashed or broken into pieces, you'll have to look elsewhere since RadioShack won't accept them.
Rather than having to deal with a completely useless device, you'll have until the end of May to bring it into a local RadioShack to get one last use out of it. As it stands, their selection is limited to some of the more popular smartphones out there, but the list below shows the accepted handsets.
Apple
• iPhone 3G
• iPhone 3GS
• iPhone 4
HTC
• Droid Incredible
• EVO 4G
• EVO Shift 4G
• G2
• HD7
• MyTouch 4G
• Thunderbolt
Samsung
• SCH-1500 Galaxy S
• Nexus S
• Galaxy S 4G
• Galaxy S Vibrant
• SPH-D700 Epic 4G
Motorola
• ATRIX 4G
source: RadioShack
Recommended Stories