Scare your Apple iPhone totin' buddy with iPhoneception
12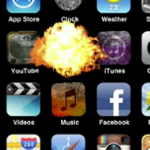 Interested in putting a scare into that friend of yours who just loves his Apple iPhone and has it in his hand 23 hours a day? A web site called iPhoneception allows you to install
one of four special effects
that will have your pal wondering what has gone wrong with his most prized possession. The four effects are explosion, kittens, gravity and zombies.
To install the prank, first select the one you want to use (explosion, which is the one in the video below, looks quite interesting) and somehow get the phone away from your friend. Because this is merely an interactive website, no Apple ID is required. Create a homepage bookmark, launch it from Springboard, press the lock button and you are all set.
When you do pull off the gag, you best
reveal it to be a joke quickly
before your buddy does some bodily harm to himself.
source:
iPhoneception
via
TUAW