Samsung's latest video promo for the Galaxy NotePRO helps design a masterpiece
9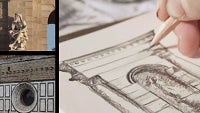 Samsung's newest generation of tablets are just what you would expect, high-specs, a lot of variety, and well marketed. The
Galaxy NotePRO
is a tablet that certainly aims at being your sole source of productivity.
What's not to like? From a 12.2-inch 2560x1600 display, to its quad-core or octa-core CPU (depending on connectivity), Android 4.4, Wi-Fi, LTE, 8MP camera, GPS, huge 9,500mAh battery, oh and let us not forget the redesigned stylus.
Just like Samsung says, "think bigger and do more." The on-screen keyboard is pretty much full sized, the touch and stylus response is near instantaneous and Samsung's user interface helps keep things organized with a nicely executed multi-window experience.
We had high praise for the
Galaxy NotePRO 12.2 in our review
. The battery life is stellar, the display is gorgeous and while the Magazine UX is a bit of a departure from TouchWiz, its tablet-centric presentation makes for a great user experience.
The Galaxy NotePRO 12.2 is for someone that wants a purely mobile-centric form factor that is highly configured for stylus work, away from the Windows environment. That is an important consideration since the NotePRO has a price tag that approaches well-appointed Windows 8.1 devices. However, the Samsung NotePRO has a more capable camera, a larger display than most other tablets, and comes preloaded with a number of Samsung apps that would not be available elsewhere.