Samsung planning more Galaxy Gear smartwatches at various price points
16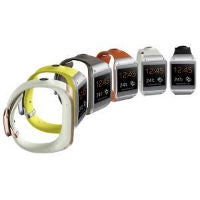 The Samsung Galaxy Gear is a very interesting new product. It is one of the first wave of what we know will be a pretty big segment of wearable devices; and, the device looks pretty good except for the potential battery life (25 hours at best, about 10 hours at worst) and the price ($299). But, at least on that second point, Samsung is planning to offer more choices for consumers.
Of course, this should be no surprise given Samsung's talent for flooding the market with devices that will hit every screen size and pricing tier available, but Samsung has confirmed that it is planning more Galaxy Gear smartwatches. Apparently, Samsung wants "Gear" to become a new sub-brand of the Galaxy line, just like the Note. That means more Galaxy Gear variants at multiple price points.
Samsung said that it had worked through hundreds of designs before settling on the Galaxy Gear as it was announced, so the team obviously has plenty of other ideas in store. And, as far as cutting cost, it would be simple enough to remove a couple features like the camera and voice control in order to hit a lower price point.