Samsung announces CES 2012 event
29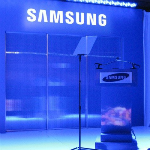 Samsung has sent out invitations announcing its media event for CES 2012, and is promising that the new products unveiled there will "push the boundaries on convergence and innovation". The press conference will be on January 9th from 2:00 to 2:45 PST, and will of course be hosted by Samsung's lovable president BK Yoon.
flexible displays
that Samsung loves to bring out at every expo, and it's very likely that we'll get more info on the
Galaxy S III
, but both of those would likely fall into the "innovation" part.
We're not too sure what to make of the "convergence" side of Samsung's promise, but it would seem reasonable that might be referring to the integrated Google TV sets that Samsung has been developing. It's unclear what else may be in the pipeline.
What do you guys think?