Samsung Odyssey and Marco WP8 handsets leak - 4.65" HD AMOLED display, LTE, dual-core Snapdragon S4
20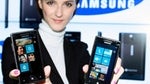 If you thought
Nokia will be the only manufacturer with a compelling Windows Phone 8 handset
, apparently that thought was premature. The Apple-Samsung trial court filings - the
gift that keeps on giving
- now revealed a sliver of Samsung's WP8 roadmap as well, and the handsets there sound pretty compelling too.
There are two spotted actually - the Samsung Odyssey and Marco. The
Odyssey
if the undisputable flagship, indicated by its 4.65" HD Super AMOLED display, 8MP camera, NFC and LTE connectivity, made available by Qualcomm's MSM8960 SoC - this is a 1.5GHz dual-core Snapdragon S4 processor. We heard a rumor that
Samsung's WP8 flagship will be as compelling as the Galaxy S III in terms of design and hardware
, and Sammy seems poised to deliver,
Samsung Marco
keeps it more down to earth with a 4" Super AMOLED screen with 480x800 pixels, 5MP camera, no NFC, but the same 1.5GHz dual-core S4 and LTE connectivity that is in its larger brother. This Qualcomm chip also supports 21Mbps HSPA+ connectivity, and both devices are simply listed as ready for Q4 availability, and we are betting on October/November retail push.