Samsung Galaxy S5 LTE-A now official with the world's sharpest, 5.1'' Quad HD display, Snapdragon 805, and 3GB RAM
80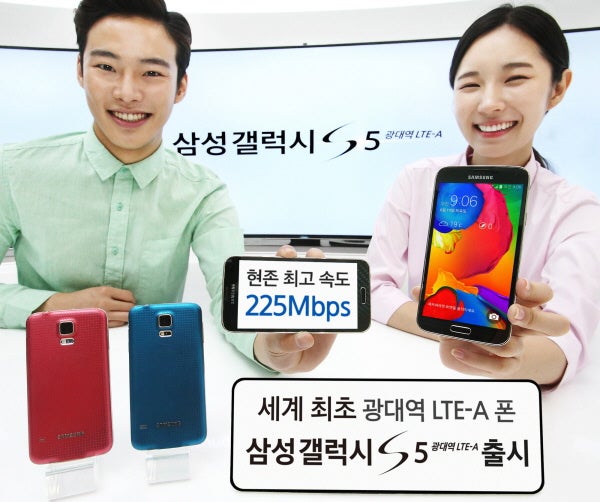 After months of Galaxy S5 Prime-related leaks (now known as the Galaxy F), Samsung today finally went ahead and released a device that pretty much hits the nail on the head in terms of what we were expecting.
Enter, the Samsung Galaxy S5 LTE-A, the world's most hardware-packed device currently available on the market (though it's unlikely it'll get out of South Korea, where it was announced). Like the standard Galaxy S5, the S5 LTE-A makes use of a 5.1-inch Super AMOLED display, but this time around Samsung has nudged the whopping 1440 x 2560 pixels (Quad HD) in it. This makes it the industry's sharpest display, at 576 pixels per inch (the G3, for example, sits at 538 ppi). But that's not all.
Powering the monstrous IP67-rated (dust- and water-resistant) S5 LTE-A is the very latest flagship chipset from Qualcomm -- the 2.5GHz, quad-core Snapdragon 805 with an Adreno 420 GPU (40% bump over its predecessor) -- along with 3GB of LPDDR3 RAM. That particular chip, according to Qualcomm, is specially-crafted for the ultra high-def era, and should provide killer performance, despite the millions more pixels it has to work.
The rest of Samsung's most advanced smartphone yet overlaps completely with what the now outclassed Galaxy S5 has to offer -- a 16-megapixel ISOCELL camera, a fingerprint sensor, a heartbeat monitor, and a 2,800 mAh battery. As the name suggests, the device also supports LTE-Advanced network speeds of up to (theoretically) 300 Mbps, though the network in South Korea, where the S5 LTE-A will be available (exclusively, probably), supports 'just' 225 Mbps.
Wrapping this up, there's one important part that's missing: the S5 LTE-A's body is not made out of metal, as we were expecting from the Galaxy F (a.k.a Galaxy S5 Prime) -- just the usual polycarbonate. Whether this means that a possible Galaxy F is still in the works, or the rumor mill had it wrong this time around, remains to be seen.
Press Release (translated) via Droid-Life

Top of existing specifications seonboyida broadband LTE-A smart phone Samsung Galaxy S5 broadband LTE-A 'release

The world's first smart phone broadband LTE-A supports the implementation of new technologies
Up to three times faster than LTE download speeds to 225Mbps
For best viewing experience ◇ 'Super AMOLED WQHD' display with
Excellent color reproduction and four times clearer than conventional HD resolution (2,560 × 1,440) Implementation
innovation from the consumer to maximize ease of use and is equipped with the latest technology
Strong performance of the 16 million high-resolution camera, a quick autofocus, such as waterproof and dustproof function
Samsung Electronics is the world's first smartphone 'broadband LTE-A' to implement new technologies Galaxy S5 broadband LTE-A 'and announces authentic.

Galaxy S5 broadband LTE-A 'is the highest specification of existing LTE smartphone smartphone more than three times faster than traditional' broadband LTE-A 'and world's first support for mobile service.

In other words, the existing theory, consumers 'LTE' 225Mbps speeds three times faster compared to 10MB one side of the music video can be downloaded in just about 0.4 seconds to showcase at an alarming rate.

Samsung Electronics in 2011 for the first time in Korea LTE smartphone Galaxy S Ⅱ LTE ', 2013, there nation's first LTE-A smart phone' Galaxy S4 LTE-A 'releases and this time the Galaxy S5 broadband LTE-A' to launch a global To further consolidate its position as the leading brand was.

In addition, Samsung is looking eyes express more surprises "Super AMOLED WQHD 'and' Galaxy S5 broadband LTE-A 'is equipped with a viewing experience that always makes the best.

'Super AMOLED' Adobe RGB color standard to represent more than 90% of the color gamut (Color Gamut) 0.01ms excellent by 20% of the LCD response time, 100,000:1 contrast ratio to provide a display of color, expressive presence It is the most outstanding feature, HD resolution four times clearer than WQHD (2,560 × 1,440) by applying a smart phone boasts the highest quality.

Galaxy S5 broadband LTE-A 'from the consumer for innovation and the latest technology to maximize ease of use was also inherited.

AP with 2.5GHz Quad-Core 3GB RAM, powerful features industry-leading 16 million acclaimed high-resolution camera, a waterproof and dustproof IP67-rated summer useful functions and exercise the heart rate check, and you can manage for themselves, such as heart rate monitor existing S5 Galaxy as they applied to the innovative new features.

Samsung Galaxy S5 broadband LTE-A 'smart buyer targeting for Life offers a variety of premium global app package, and 10 films every month until the end of September benefits.

Galaxy S5 broadband LTE-A 'is 19 days, SKT launched the first through to the next through KT and LGU + will be released.

Cooper is a luxurious gold color (Cooper Gold) Color Charcoal Black Borders on existing (Charcoal Black), Shimmer White (Shimmery White), Electric Blue (Electric Blue), Copper Gold (Cooper Gold) including four suites with a pink back Color is added to a glam red color through SKT will be added. Chulgoga is 940,500 won.

Samsung Electronics said, "the world's first LTE-A phone broadband era product leadership, Samsung's mobile market once again proved to the world" and "will continue to reflect the needs of a variety of consumer products, serves a global market leader out plan, "he said.