Latest leak supposedly shows the Samsung Galaxy S10+ up close
19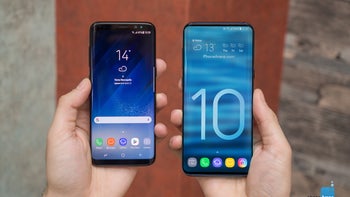 What the S10+ could have looked like if it wasn't for the front-facing cameras
Leaks about the
Samsung Galaxy S10 series
are
dime
a
dozen
and we're getting today's offering straight from the Chinese social media Weibo in the form of
yet another photo
. The picture allegedly shows the Samsung Galaxy S10+ in all of its punch-hole (more like punch-pill) display glory.
Of course, we've already seen the device in previous leaks, so let's see how this latest photo compares to what we already know.
First off, the picture shows the phone with the recent apps menu opened with the suggested apps at the bottom, styled in Samsung's latest One UI, so far so good. Taking a look at the top, however, we see some discrepancies between this leak and
previous ones
. The time here is positioned a lot closer to the middle of the display than it has been seen previously, tucked in the corner. Moreover, everything on the display seems to be at an angle slightly different from the device itself.
The different time position could be a change Samsung made to have the clock and the battery/signal indicators more symmetrical because of the front-facing cameras. However, zooming in on the picture shows that the pixels around the time are a bit different from those surrounding them, which hints that there might have been some tampering with what we're seeing here.
Another difference is noticeable around the side buttons. While on this picture the right-side button translates somewhere between the Bixby button and the volume controls on the left, like it is on the Note 9, for example, on previous leaks we've seen the right button a lot higher, closer to the level of the volume up button.
This leads us to believe that someone is likely trying to get on the hype train with a self-made "leak" rather than having access to the real device. Either way, the official announcement is less than a month away. All will be revealed on February 20 at Samsung's Unpacked event.