Samsung Galaxy S II HD LTE unboxing and hands-on
24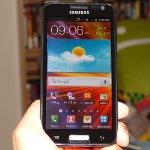 First it was the original Samsung Galaxy S II setting the pace, then came along the trove of variants launched for the US that inched ever so better in the specs department, and ultimately it was the Samsung Galaxy Nexus that capped things off for the Korean based company. Nearly a year after its official debut, we're finally checking out the latest member in the beloved family – the
Samsung Galaxy S II HD LTE
(yeah, that's mouth full in itself). At the core of it all is the same dreamy Galaxy S II model we all know very well by now, but it sports improvements such as a larger 4.65" HD (720 x 1280) Super AMOLED display, 4G LTE connectivity, and a 1.5GHz dual-core processor. However, it's worth noting that this juiced smartphone is only being made available overseas in
Korea
– though, a variant of it is coming to AT&T as the
Samsung Galaxy S II Skyrocket HD
.
Let's get the obvious out of the way, but the cool thing about the Samsung Galaxy S II HD LTE is that it's able to maintain its relatively
streamline construction
– and it's actually only a hairline thicker than the original model. Aesthetically, it also maintains the design elements established by the original model, which isn't a fresh looking thing in any way in this day and age. Typical Samsung, its
all-plastic construction
enables it to be comfortable to hold in the hand thanks to its
lightweight feel
, while resoundingly instilling us with some confidence with its overall
sturdy
feel.
With its
4.65" HD Super AMOLED display
, we're of course wide-eyed about its accompanying beauty, like its punchy color production and sharp details. Sure, some people might have some dissatisfaction knowing that it employs a PenTile matrix arrangement, but nevertheless, it's detailed enough to wow our eyes even at a close distance. Beyond that, it exhibits all of the qualities found with Super AMOLED displays, like its wide viewing angles, high contrast, and an overall polarizing glow to capture our attention.
Under the hood, a
1.5GHz dual-core CPU
is providing all of the muscle power to run this bountiful phone, and from a cursory look, it seems to run in parallel to other Galaxy S II devices we've seen already. Moreover, when it's packing support for
LTE
, there's no arguing that it's there to match its already establish high-end personality. And when you think about all the goodies stuffed into this bad boy, it's absolutely amazing that they're able to keep its body uniform at 9.5mm thick! Indeed there's a lot of like about this one, but considering there we're in the age of quad-cores, it'll be interesting to know if it'll be able to stay afloat and stay firm in the minds of consumers all around.