Samsung Galaxy Blade edge is the world's first smart knife, phone capabilities included
47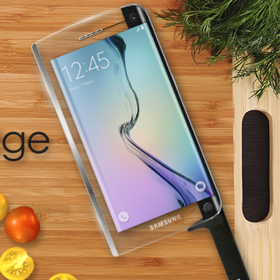 Samsung today introduced the Galaxy Blade edge, a smart knife (the first in the world) that offers smartphone capabilities. The Blade edge comes with all the features of the
Galaxy S6
- including Android, the latest TouchWiz UI, and a great camera that's always ready to take photos of your delicious food. With its ceramic body and its razor-sharp diamond edge, the new Galaxy can be successfully used as a kitchen knife. It comes with a foldable handle that can, upon request, be made out of premium olivewood, ceramic, stainless steel, or even mammoth tusk.
Thanks to Samsung Knox, the Blade edge is a safe knife. It's got a finger detection mechanism that prevents it from cutting human skin, while anti-virus protection alerts you whenever unwanted germs are detected in your ingredients. In addition, the Galaxy Blade edge is waterproof and fireproof, and includes a stylus that can function as a thermometer, or as a baking tool. Samsung designed an Ultra 4D Curved Flash to be used as the main memory of the Galaxy Blade edge.
All in all, Samsung believes that the Galaxy Blade edge should be the ultimate kitchen tool for modern chefs who, thanks to the new device, no longer need to buy smartphones and knifes as separate products.
It's already April 1 in South Korea, which means the Galaxy Blade edge is just one of Samsung's April Fools' Day pranks. Or at least that's what the company wants us to believe (you can never know what's really cooking in its secret R&D labs).
source:
Samsung Tomorrow