Samsung Droid Charge benchmark tests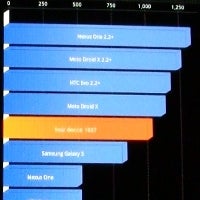 In our third video, we wanted to see how well the
Samsung Droid Charge
would stacked-up next to the HTC ThunderBolt when running some benchmark applications.
The first benchmark app ran was
Quadran
t, and we noticed that it was running a bit faster on the HTC ThunderBolt and also finished a few seconds earlier with a score of 1811. Meanwhile, the
Samsung Droid Charge got a surprisingly low score of 1037
, which is even less than the Motorola DROID X. We're not sure why the Quadrant score is so low on the Droid Charge, but we have ran the test several times and the highest score we've got is 1050.
We also ran the
AnTuTu System Benchmark
program, which tests 8 areas of performance, and got a score of 1886 on the Droid Charge, but again the ThunderBolt did better with a score of 1991. Lastly, we ran the
NeoCore graphics benchmark app
, and got 56.8fps on the Droid Charge and 59.2fps on the ThunderBolt.
Despite the HTC ThunderBolt achieving better benchmark score all around, we found that the actual use of the Samsung Droid Charge was quick, and we didn't notice any lag on either of the two devices when moving between the 7 home screens, opening the app menu, or loading apps.