Rumor suggests nothing extravagant in iPhone 5 design
19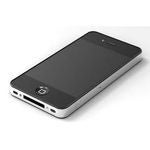 Had enough rumors revolving around Apple's upcoming iPhone 5? No? Well, the latest one we came across may not be very exciting since it hints that nothing much will change in the overall exterior design of Apple's next smartphone.
Crude computer renderings of supposed iPhone 5 case designs have surfaced on the web and do not seem to predict nothing that we have not seen before. First of all, the
rumored slide-out keyboard
is being completely taken out of the picture since the covers appear to wrap around all of the smartphone's corners leaving no room for anything even similar to a hardware keyboard to slide out of there. Taking a closer look at the case designs also suggests that the iPhone 5 may not be as curvy around the edges as a recent
rumor
by the Chinese Economic Daily News implied and may even be identical in terms of shape and size to its current counterpart.
Despite the claims that the source of the image has proven to be reliable, the poor drawing job seen in the renderings does not really win our trust. However, over the years little cosmetic changes have been done to the iPhone's looks, which is good enough of a reason to believe that we will not see anything out of the ordinary when the iPhone 5 launches this summer. Perhaps, the bigger changes will be on the inside?
source:
Hardmac
via
Mac Rumors