Real Steel: unleash your inner robot pilot with Kuratas, the 4 tonnes iPhone-controlled warrior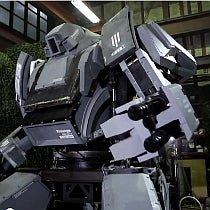 A Japanese electronics company unveiled your largest, deadliest iPhone accessory yet at an expo over the weekend. You can be a robot pilot of
Kuratas
or control it with your iPhone via the 3G/4G network, and it is a 13 feet-high, 4.5 tonnes-heavy, 6, 600-ball-bearing-pellets-a-minute-shooting carnivore.
Best of all - those deadly shots can be triggered with a smile - your smile. Very quirky, and deserving a Hollywood movie episode of its own, as well as several shrink sessions for its creators.
The rideable Kuratas monster is, of course, meant for much more noble tasks besides shooting with its Gatling arm, like firefighting and cleaning debris. The robot is made by Suidobashi Heavy Industry and developed by
Kōgorō Kurata, with the movements software for its hydraulic diesel-powered system done by

Wataru Yoshizaki's robotic control software V-Sido.
In development since early 2010, Kuratas will run you about $1.3 million, depending on the trim and paint. We are not kidding, you can order this thing in various configurations from Suidobashi Heavy Industry at some point via the source link below. Enjoy the promo and control videos for Kuratas in the slideshow below, and dream of an Android control app as well, since what's more suiting than a little green robot controlling its deadly steel sidekick.