Ready for iPhone 7: the headphones with Lightning connector announced so far
54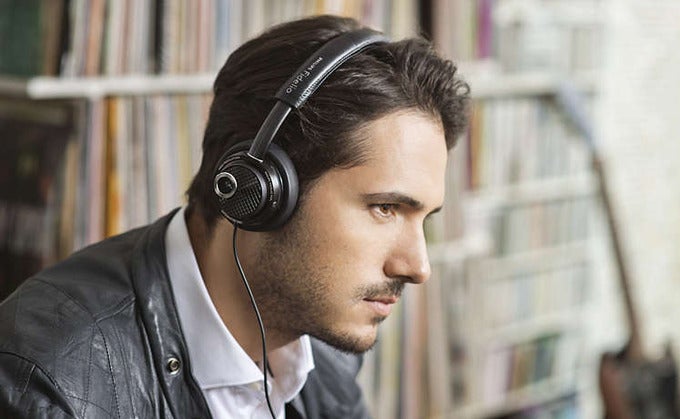 Like it or not, the next iPhone may pass on the headphone jack. According to
rumors about the iPhone 7
, as the handset is likely to be called, the phone might drop the industry-standard 3.5-millimeter connector in favor of audio output via the phone's Lightning port. A "deal with it" joke would have been great to have here, but we know many of us don't really feel like laughing. Many of us know that pretty much every pair of wired earphones we own could be incompatible with Apple's next big smartphone, unless we buy a fancy schmancy adapter... for $99 or something like that.
But in all seriousness, audio over an iOS device's Lightning port comes with its advantages. Quality is one of them, as the signal gets sent digitally to an external DAC and amplifier, which in turn should be able to provide greater fidelity. Some companies are already exploring the possibilities of Lightning audio output and have products of their own that use Apple's connector instead of the standard 3.5-millimeter jack. And yes, these products will be compatible with an
iPhone 7
lacking a headphone jack. Let's take a look at the few headphones with a Lightning connector announced so far.
JBL Reflect Aware
The JBL Reflect Aware is a sporty pair of earphones with noise cancellation and adaptive noise control. What this means is that background noise isn't only passively reduced by the buds' rubber sleeves, but also actively minimized by dedicated microphones. The active noise cancellation magic works without requiring additional batteries, as power is drawn straight from the Lightning port of the iOS device the JBL Reflect Aware is connected to. And when you want to, you may allow a limited amount of ambient noise to come through. You know, for safety's sake. That is done from an app you download on your iOS device. Inside the Reflect Aware beat a pair of 14.8mm drivers with a frequency response from 10 Hz to 22 kHz, according to their specs. Sound properties aside, JBL's Lightning earphones are sweat-proof and feature a reflective cable for those night-time jogging sessions. (Oddly, the earphones' specs page mentions nothing about these being able to make calls. Keep that in mind before hitting that Add to Cart button.)
Price:
$159.95
(Coming soon) Colors: blue, black, red, teal
Philips Fidelio NC1L
The Philips Fidelio NC1L is an on-ear pair of earphones with flat-folding design and memory foam cushions. What's more interesting, however, is that they're also blessed with the magic of noise cancelling, enabled by the four microphones built into the cans. The mode can be on or off, whether you don't or do want to hear the sounds of your surroundings. And a third mode is designed to improve call quality – yes, you may make phone calls while wearing these. Inside the Philips Fidelio NC1L ticks a 24-bit digital-to-analog converter that feeds audio to a pair of neodymium drivers. Again, the hardware requires no additional batteries, as power is drawn from the iPhone's.
Oddly, the headphones are supposed to be out in the U.S., but we're having a hard time finding any retailer who has them in stock. If you do own a pair of these, do let us know in the comments!
Price: $299 (Available soon, perhaps?)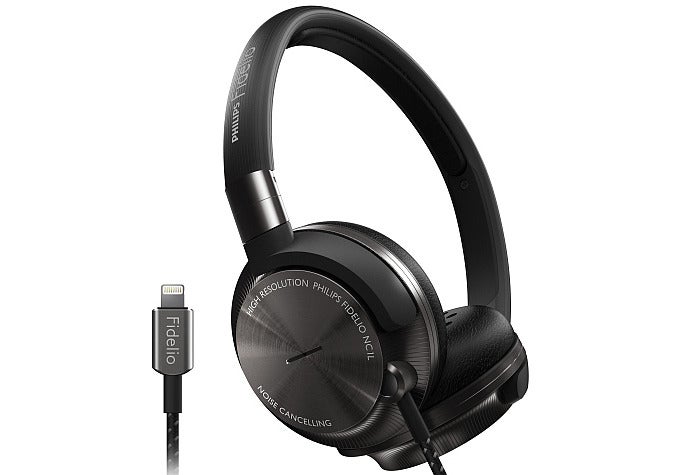 Philips Fidelio M2L
Unlike the NC1L, the Philips Fidelio M2L is a pair of Lightning earphones you can actually buy. Albeit at a steep price. What you get in exchange is a pair of on-ear cans featuring a 24-bit, 48 kHz DAC and an amp driving the 40-millimeter neodymium drivers together. What you don't get, however, is active noise cancellation, which is a bummer. Tech specs mention a frequency response of 7 Hz to 25 kHz and a sensitivity of 107 decibels.
Price:
$299
(Much cheaper on Amazon)
Audeze EL-8 Titanium
Before we say anything about what these cans can do, we have to point out that they're priced at $800. Still with us? Okay. Then you might be thrilled to know that the Audeze EL-8 headphones feature 100-millimeter planar magnetic drivers. We won't get much into technical details here. All that matters is that compared to standard dynamic drivers, planar magnetic ones deliver more accurate sound. Speaking of sound, the EL-8 comes with a built-in 24-bit DAC paired with an amplifier delivering tons of power to the drivers. Specs mention a frequency response from 10 Hz to 50 kHz and a maximum SPL exceeding 130 decibels. There are several more things we have to mention. The Audeze EL-8 Titanium are designed to connect over Apple's Lightning connector, but they can be used with a standard 3.5-millimeter jack as well. And yes, you can make phone calls with these, as well as call up Siri when her assistance is required.