Professional iPad owners ditching print and disks like yesterday's garbage
4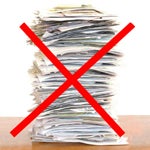 As we reported recently, a growing number of workers are
using iPads in the workplace
, although only around 1/10 of them are replacing their laptops with their iOS tablets. It turns out that printed and optical media are less fortunate than laptops.
According to IDG Connect numbers, 72% of professional iPad users say they buy fewer newspapers as a direct result of their iPad. Almost as many (70%) cite a reduction in the number of books they purchase due to their iPad. And half (49%) are buying fewer DVDs or Blu-Ray disks now that they can watch movies on their iPad.
While much has been written about the impact that tablets may be having on the PC industry, they may be having a much larger impact on analog media, as they accelerate the trend towards digital distribution. It isn't surprising that owning a tablet should lead to a reduction in the purchasing of paper-based print or optical media, although the finding contradicts the trend Amazon finds with those who buy their tablets and eReaders – those purchasers are reported to buy almost the same number of physical books, while of course dramatically increasing the number of electronic titles they purchase.
Is the iPad catering to a different clientele, or is it simply indicating a trend that we'll start to see on all tablets and eReaders in the future? I'm sure we'll find out as the year wears on. There may be something of a silver lining for non-Apple tablet makers – IDG also reported that 15% of iPad owners would consider getting a different type of tablet next time.
An 85% retention rate is obviously excellent and Apple should be proud, but 15% of current iPad owners would still
dwarf the sales of other tablets
in 2011, so there would appear to be a substantial market of iPad owners that would consider a change if the competition can make a compelling enough product.
Those of you who own iPads, eReaders, or Android tablets – do you find yourself abandoning print and optical media, or is what you consumer on your tablet just adding to the media you already consume?
source: IDG Connect via
mocoNews