Pre-paid carrier Krew offers free cell service for the kids in your family
5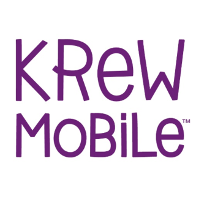 North America has a new pre-paid cellular service provider as Krew Mobile launched on Thursday. Krew was created because 80% of teens use a cellphone, and the average cost of a family plan is $100 a month. With more than 80% of parents saying that price is an important factor in deciding whether or not to get their kids a phone, Krew decided to be the first in the wireless industry to offer a "kids-are-free" wireless service.
The Krew Mobile Family Service Plan consists of three lines; one line goes to mom or dad and provides unlimited talk, text and 2GB of 4G LTE data. Two free bonus lines provide kids with nationwide talk and text. The price of the service is normally $39.95 a month, but for a limited time the first two months are priced at $19.95.
Krew Mobile requires you to have your own unlocked device, and since the kids' lines don't include data, giving them your old flip phones will work out perfectly. If you want to give your kids a phone for safety reasons, and don't think that they are ready to own a smartphone, Krew Mobile's Family Service Plan might be what the doctor ordered. While Krew doesn't sell phones, they do recommend that subscribers look at the certified ore-owned phones offered by Gazelle.
"Family plans offered by other carriers on average cost upwards of $100 per month. That's a lot of money for most families. With Krew we are delivering a contract-free family plan that fits any family budget, all on a nationwide LTE network with parental control features at no additional cost."-Emir Aboulhosn, founder and CEO, (Krew Mobile parent) Otono.

"As a parent, I want to know that I can reach my children at any time. That's why we want to give them cell phones. But we also want to teach children mobile responsibility. Krew Mobile gives me that peace of mind. With Krew, children have the freedom of a phone plan while giving parents control of their usage-all at a ridiculously affordable rate! Now I can get a great phone plan for myself and my two children get their own plans for free!"-Sharon Vinderine, founder and CEO, Parent Tested Parent Approved.
If you're interested in Krew's service, click on the sourcelink.
source:
KrewMobile