Pre launch day passes with few surprises; Touchstone charging systems hard to find
12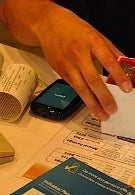 The Palm Pre was launched nationwide yesterday with lines forming around some high profile stores. For example, Sprint's flagship store in the Flatiron section of New York City started drawing lines around 5am. The store was supposed to have 100 units of the Pre in stock. While inventory in stores of the hot new smartphone differed by location, the Touchstone charging dock was in low supply throughout the country. Compare the 100 handsets allegedly available at the Flatiron store with the 9 units that was available at a Best Buy location in Orlando, according to a EngadgetMobile tipster. The Bryant Park Sprint store in the Big Apple had handsets, but was out of Touchstone devices.
As the new business week starts tomorrow, we should start to see some early reports of how many Pre's found a new home during this weekend. Besides Sprint stores, certain Best Buy and Radio Shack locations and many Wal Mart stores are carrying the Palm Pre. Availability at these retail partners was expected to be very limited.
And speaking of the Pre, remember when we
reported
that Verizon Wireless CEO Lowell McAdam was saying that his firm was going to be offering the new Palm device within 6 months? Sprint immediately
replied
that their exclusivity contract to sell the Pre in the U.S. ran beyond the end of 2009 which would make McAdams' statement incorrect. Sprint CEO Dan Hesse continued the onslaught yesterday by saying, "They need to check their facts. That just is not the case. Both Palmand Sprint have agreed not to discuss the length of the exclusivitydeal. But I can tell you it's not six months." AT&T Chairman Randall Stephenson added to the confusion last week when he too said that he wanted his company to offer the Pre on his network once the exclusivity deal with Sprint had expired.
Palm Pre Specifications
|
Hands-on
source:
EngadgetMobile
,
CNET