Politician loses his iPhone in a mugging, buys it back for $200 from the mugger
19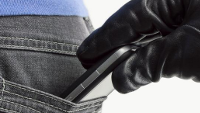 San Francisco supervisor Scott Wiener was walking toward a BART (Bay Area Rapid Transit) station from his home last Friday. Stopping at a red light (it wouldn't look good for a politician to be caught jaywalking), he took out his iPhone.While quickly checking the calendar, a woman sandwiched by two men grabbed his phone, and then the negotiations began.
Wiener kept telling her that he wanted his phone back, and she agreed to give it back to him in return for cash. The muggers originally asked for $500, but eventually agreed to take $200. So Wiener walked with them to an ATM machine, where he had them stand in front of the camera that takes surveillance photos.
In a scene that was out of a comedy, Wiener refused to turn over the cash until the phone was in his hand. The mugger wouldn't turn over the phone until she had the cash in hand. So both relied on a bystander to back the swap. After both sides went their separate ways, Wiener called the cops and the woman was arrested. Turns out she was carrying a can of mace. Her partners are still at large.
Despite this particular crime, smartphone theft has declined 22% year-over-year according to San Francisco district attorney George Gascon. This past February, a law was passed in California requiring phones sold in the state to have a kill switch. That one change in the law is responsible for the large decline in phone-related crime. Why did it take so long to get a kill switch added to smartphones? Because smartphone jacks are a big business for carriers and manufacturers. According to a 2012 report by mobile security firm Lookout, $69 billion in smartphone sales were rung up that year, with $30 billion coming from replacements for lost or stolen devices. Insurance sales are also a big business for the mobile operators.
It is easy to be distracted while looking at your phone. Your best bet is to keep it in your pocket until you are in a location that you feel is safe.
source:
arstechnica
Recommended Stories