Pixi dust gets into Sprint's systems; updated Pre model gone?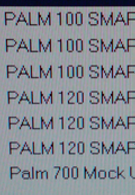 The Cellebrite machine, used to swap your contacts between phones, now shows the Palm Pixi at Sprint. If that doesn't indicate a coming launch, how about two more screen shots of the pin-dropping carrier's inventory system? Besides indicating that the release of the Pixi is imminent, there is a problem with these screen shots-something is missing. When we last caught a screenshot of Sprint's inventory, there were three models that we were looking at. The 100 HK (Pre), the C40HK (Pixi) and the 120HK (a new updated Pre?). The new inventory photo shows the 100HK and the 120HK and the C40HK is missing. A tipster for precentral informs them that this model is no longer found in Sprint's system anywhere.
The solution is simple. The 100HK is the Pre, but the 120HK is the Pixi and the C40HK could have been an updated Pre that is no longer on the drawing boards. Does it have to do with the reportedly sluggish sales of the model? Will it reappear later? For these and other answers, stay tuned. These are the phones of our lives.
Palm Pixi Specifications
source:
precentral