Pixel C team says split screen coming to Android N
33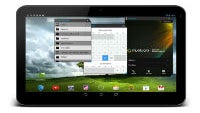 The general consensus around the new Google Pixel C tablet is that it is nice enough hardware that suffers from a lack of optimized apps and software. The Pixel C team took questions in a Reddit Ask Me Anything (AMA) recently, and spilled the beans that one of the more useful software optimizations for Android could be on the way in the next update.
Andrew Bowers, director for consumer hardware at Google, had this to say during the AMA:
We're working on lots of things right now for N that, of course, we wish we had, you know, yesterday. But we'd spoil the surprise of N if we shared all of them. Split screen is in the works!
The team also mentioned working on DisplayPort support over USB Type-C, but it was less clear if that would be part of Android N as well.
We obviously knew that Android N was in the works, because Google never stops development on Android, but this is the first we're hearing about some of the major updates planned for Android. It seems pretty obvious that Google will be working on better multitasking options for larger screens, and there is a chance we'll see something similar to Windows Continuum start to take shape if DisplayPort support comes with Android N.
The question remains when we might see the update. It's certainly possible that we might see Android 6.1 as soon as Google I/O in June, but it also seems unlikely that Google would flip from Marshmallow to N that soon. Maybe by the end of 2016 though.
Recommended Stories